Starting A Crepe Business




All You Need To Know About
The phenomenon of street food vendors is something that has become popular across the UK high streets, markets and wherever crowds of people are passing through. It is a sure sign that people are guaranteed to spend their money getting a few treats either during the lunch break or if they just happen to be passing by and get lured in by tasty smells coming from one of these street food sellers.
The inspiration seems to be food truck, gazebo and catering cart businesses, serving rare but well practised menus not familiar to restaurants but becomes loved by the locals. It might be a family recipe that is received well by the public or something of a person's creation that takes off but whatever the reason, it can be a highly profitable business and cost effective for someone who wants to start this sort of business. If you are on a quest to pursuing this, then here is all the information you need to start to make your dream a reality.
Why Start a Crepe Business?
Starting a crepe business is easier than you think, even for someone who has no experience. These delicious treats are attractive to a wide range of customers of all age groups and unlike other types of food offerings which can be seasonal - crepes make for a mouthwatering snack all year round.
Other advantages:

Low startup cost and risk

Easy to master after some practice


Be your own boss

Crepes offer all year appeal - sweet or savory


Part-time or full-time business

Source products and ingrediants locally

Crepe making equipment is simple to use

How do I start?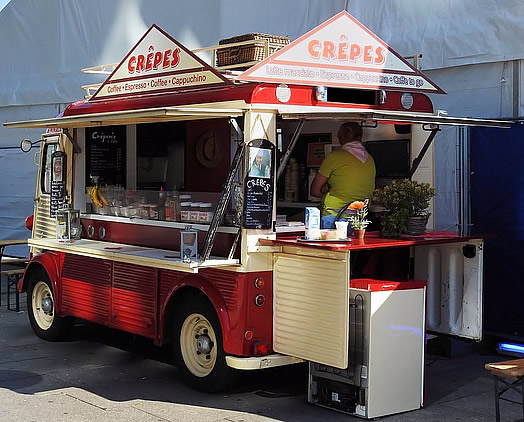 Decide on a budget for your street food business. If this is your first business venture or even for someone who is experienced, it is best to start small and gradually upscale as the business becomes successful.

The general guidelines for this type of start-up investment could range from under £2k if it's for a Gazebo setup,  £5-6K for a catering cart, and up to £12k+ for a catering van/ trailer vehicle  

It all depends on your budget and the catering equipment you decide to go with. The good thing with this type of business is that it does offer anyone the opportunity at £2k to enter the lucrative crepe business. A good low cost and low-risk venture.
What equipment do in need?

You can spend anywhere up to a £500+ to buy a decent single crepe machine, but it's also recommended that 2 crepes machines are better since you want to be able to serve customers quickly. You will also need a generator to power the crepe machine if it's an electric model. If you opted for an LPG crepe machine then the generator is not needed, this will run on LPG gas.


The next thing  you will you need is your gazebo, with two tables for a small hassle-free setup. Once, you have these, you have to invest in some cooking utensils including hand washing facilities, crepe mix, sauces, mixing bowls and supplies. There are plenty of professional catering suppliers out there who supply these types of equipment.

How do I decide on my crepe menu?

Crepes are versatile and lends itself to a sweet or savoury menu. If you are embarking on this and you are not a chef, do make the effort to cook food that people will want to eat. You can get crepes mixers to help you get started or have an idea of what this should taste like but don't stop there.You can practise on coming up with a flavour that works well together and test these out among friends and family.
Generally, the most successful mobile catering are the ones who concentrate on a few recipes but do them well. Also, you want recipes that are quick to make to feed the hungry public especially at the lunch hour when people do not have a lot of time to wait around. This should ensure that you do not lose customers and give your business the best chance of success.
Where can I trade?

Most towns and cities have a dedicated place, where street food business thrives, usually a local market place where a collection of stalls operating alongside each other competitively. There are 'remote pitches' often advertised by the local councils, these often tend to be on industrial estates. Some
Councils encourage individuals to approach them to enquire about a location they are interested in. As with all businesses, you have to consider competition before you secure your pitch. A small scale crepe business is likely to be trading from a stall so you need to check out the competition to make sure that there is no one doing the same thing as you. You should come up with something that is tasty and different for the area you are trading in.Crepes are very versatile and so should be the choice.
What are the legal requirements?

Before you start trading, there are a number of legal requirements you must meet. Firstly, there is a requirement 'Food Business Registration' you can register online through your local council – to find out your local council for your area and the particular postcode where you will be trading go to https://www.gov.uk/food-business-registration.
If you are applying from Wales ensure that you select the option for Wales before continuing your search. The law says that the application must be made 28 days before you begin to trade and there will be penalties if you fail to comply with the law. There is a fine of £1000 and it also carries a term of 2 years imprisonment in worst case scenario so this is an important legal requisite you must adhere to, to avoid problems.
The next important thing to have in place is Food Hygiene Scheme; the council may come to inspect how you prepare your food and whether this meets the relevant food hygiene laws. For more information on how to prepare for this, visit  https://www.food.gov.uk/safety-hygiene/food-hygiene-rating-scheme. This is worth the effort because if you manage to achieve a high scoring, it makes a difference when customers are deciding whether to buy your food or not. The perception among customer experience is that low score reflects poor hygiene and that will deter them from buying your food.
There is a requirement by law on Food Safety that anyone coming in contact with preparation of the food must have some training appropriate to their level of food handling. The best way to make sure you are covered is to ensure that you go on a food hygiene course and obtain a basic Food Hygiene Certificate. Find out more information directly from here: https://www.food.gov.uk/business-guidance/safer-food-better-business 

You may need a Street Trading Licence in order to be sell food on public streets. Again, you need to apply to your local council for this. This does not apply if you have a 'Pedlars Certificate'. The Council may refuse your application or give you fewer times than you asked for. These are issues you have to navigate through carefully with them, also working closely in association with them and taking on any advice they give you. All the details of what you need to know can be found here https://www.gov.uk/street-trading-licence. If you fail to obtain a license, you can suffer a fine of up to £1000.
As this is small scale business, you will come under self-employed and need to register with the HMRC for tax purposes. You will need to register to pay tax referred to as 'Self Assessment' with them immediately, the moment you start trading. You need to consider which activities the HRMC deems as trading as many people fall foul of this and find themselves illegally trading. Some key point to consider;
You're likely to be trading if you:
sell regularly to make a profit
make items to sell for profit
sell online, at car boot sales or through classified adverts on a regular basis
earn commission from selling goods for other people
are paid for a service you provide
Separately, every mobile food catering business needs liability insurance, product, public and employer cover. The product liability covers you for cases of food poisoning, contamination or any sickness people in the event that this happens.
The public liability covers you from any damage to property or injuries sustained on the premise of your work. A business at a basic level probably only need the first two and businesses with employees will also need to have employer's cover to protect themselves from unforeseen circumstances arising from having staff.
Finally, there is a legal obligation to ensure Gas/Electric Safety, because your equipments will be powered by these. Tests should be carried out annually by a Gas Safe Engineer registered for mobile catering and LPG appliances.  
How much can you make selling crepes?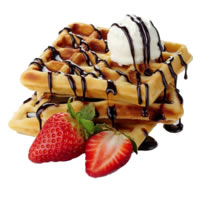 Selling crepes like most mobile catering foods can be lucrative. As an estimate, like with most mobile catering businesses. It does all depend on your location, trading times, rent and the footfall of your pitch. 

The average price of a crepe is between £3-£4. The cost to make a crepe does vary, but if we aim for the 70p mark(crepe+ filling), this would not be far of the actual cost. Taking this into account a possible profit can, therefore, be between £2-£2.50 per crepe.

If we take an average selling point of £2.20 per crepe and sold  50 crepes a day.

50 crepes x £2.20= £110 per day

If we were to times this by 5x days = £550 per week.
This is for a 5 day week. You could, of course, do more days.  Some have a crepes business that only on the weekend and so it does all depend on your goals.

How to make crepes and how long does is take?

The video below provides an overview of the basics of making crepes. The person made 2 crepe within 4 mins, which averages out at around 15 crepes an hour. Everyone has a slightly different technique, however its shows clearly what is achievable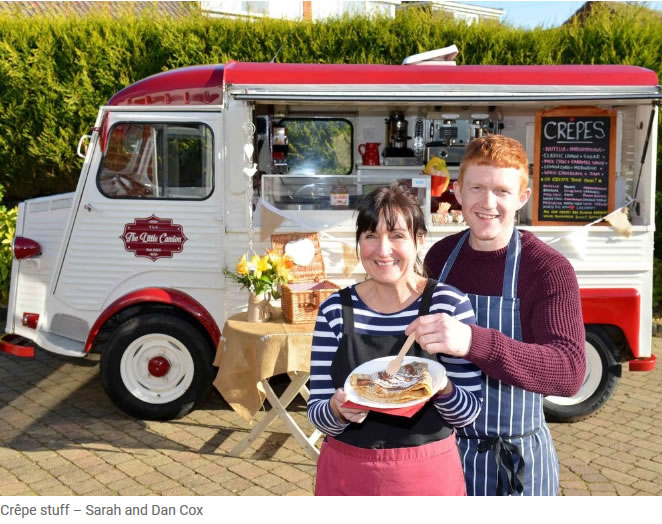 Branding and marketing

You have jumped through all the hurdles and your business is about to become a reality. However, you cannot underestimate the importance making sure that you give your food business a unique appeal that sets you apart from the other food traders. Give some thought to branding and syncing your ideas together so customers can instantly identify your business from the competition. You do not have to spend a lot of money but even a small touch such as deciding on colours, the name and the look for your stall is a must.
Customers like nicely packaged food because it gives it that professional touch, this does not have to be expensive but think about how you are going to serve your crepes to the public. Go beyond just getting the plain plastic things that everyone gets, invest a bit of time and come up with something creative. It does not have to be expensive even friends and family can help you to design something to achieve that brand.
Branding your product will make marketing easier because it enables you to flag things up in a few words while getting your message across to the public. Social media will play an important role in this to drum up some business for pittance.  Facebook and Instagram are really good platforms where you can share instant pictures of the food and allows you to drive customers to your business. Facebook allows it's audiences to give reviews, so over time you can accumulate helpful reviews that will get people talking about your business.  
Having a professional website is also a major source of free advertising that can help your business grow considerably. Its especially useful if you want to expand the business and cater for other events likes birthdays, weddings, festivals, children's events, sporting events and more. Word of mouth is great, but will only go so far, but many will be searching for food services online. Which is why you should have a website in this space.
Customer services skills

As a mobile food catering business, this may not be at the forefront of your mind but it is very essential to the success of your business. Although, you hope to serve customers quickly in order to sell as many crepes as possible, don't be in too much of a rush and miss engaging with your customers. If you give that personal service, you will create a lasting impression on your customers that will ensure repeat business.
You can think about leaving some free tasty treats just in front of where you are selling your crepes to encourage possible customers to try just to whet their appetite. As you grow in confidence, you will develop your own unique style of engaging with customers.
What next?

Whenever you start something new, it can be a bit daunting to know how to approach it but I hope this information has instilled confidence that will help you take the next step in on your journey.
If starting a crepe business is something you are eager to get going but don't know where to start. Please take a look at some of our crepe start-up packages here
These packages offer a cost-effective way to start your own crepe business. it covers all the essentials needed to launch and start a crepe business.  If in the meantime you have any questions do reach out to us here.