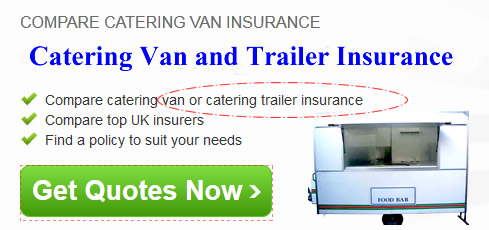 What a tragedy it would be if one had just began a new business venture, with a catering van and he or she did not have caterers van insurance. At any moment, something could happen that could endanger your business because you are not insured.
You could also face hefty fines for not complying with the law concerning catering van insurance. Do not let this happen to you. Check out the many different types of insurance that is available to you for your catering van, some that are required and some that are optional.
No matter what your catering vans sells (ice cream, hot dogs, hamburgers, chips, tacos, and sandwiches), you are required by law to have some form of catering van liability insurance to protect the people you serve and your company as well.
Depending on what type of catering van you choose, the equipment in the van and the overall value of the van can affect the costs of your policy. Many people are unaware of the benefits that this type of policy can provide.
Catering Van Liability Insurance
Helps Protect Your Business

Catering van liability insurance can help your business to remain stable. If an accident occurs that involves your property or someone who works for you, you may have to come up with a large amount of money to take care of the incident.
The costs of dealing with whatever happens could close your company down immediately. If multiple parties are involved in the situation, you could find yourself in serious financial trouble. Do not let your organization fall under this problem because you chose to ignore the law and not procure the liability insurance you should have.
Catering Van Liability Insurance
Helps Protect the Public

Another benefit that can help you out is that catering van insurance provides protection for accidents that happen to the public. While no one wants to think about an accident, they can and do happen usually at the worst time possible.
If you catering van were to hit a bus filled with children and you did not have insurance, you could find your company in deep trouble. Depending on how you set up your company, you could be personally liable for the costs. Imagine losing your home because of an accident that you may not have had any control over.
Other Benefits Of Catering Van
Liability Insurance

You have other types of insurance that can also benefit your business. Employer's liability insurance is another that is required by law and it helps to protect your employees and your company as well.
If an employee was to be injured, you have a way to remedy the costs. No one wants to have an employee who is hurt on the job and the costs associated with getting the individual treated and taken care of can be very expensive.
Another type of insurance is a product liability policy that protects your business against poisoning or other product issues that you do not control. If the product you are serving goes bad and your customers get sick from consuming the product, you could find that you need some help protecting the business.
Do not make the mistake that most people make when they start a new business. A catering van business requires that you have the right insurance. Take a few moments to check out the different types of insurances that many organizations provide.
Compare the quotes to get the best possible rate for your business. Liability and employer's insurance are two policies you must have.

Find Out More About Catering Trailer Insurance More Info
More Info On Catering Liability Insurance

*Read Through Catering Insurance Questions & Answers*
Return To Mobile Catering (Home) From Catering Van Insurance