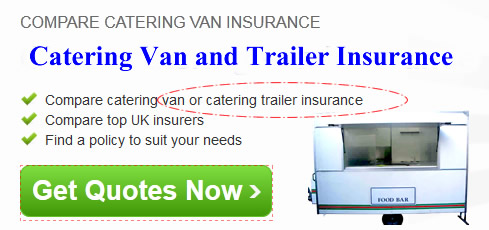 | | |
| --- | --- |
| | Catering trailer insurance is a crucial part of any catering business that is run out of a trailer. For those of you who have made the decision to go into business, you will need to understand a few things and the importance about catering trailer insurance. |
Importance of Catering Trailer Cover

Most insurance companies will provide you with an insurance policy to cover your catering trailer. First, you might ask, what is a catering trailer? A catering trailer is a separate coach that is attached to a vehicle and is used for preparing and selling food.
One of the biggest benefits of having a catering trailer is that you can move it around from one location to another in order to capitalize on the different markets. Do you need to have insurance on your catering trailer? You most certainly do. Catering trailer insurance is not just to protect the general public but also to provide you with the tools necessary to protect your investment.
Evaluating the Different Types of
Catering Trailer Insurance Policies

Each insurance company may cover different aspects but the following are the most common things you should expect from any catering trailer policy. You need protection from accidental damages, fire and possible thefts. You can choose to cover all three or a combination of the three.
If you have money stored in your catering trailer, your policy can help to protect loss associated with its theft. One of the most expensive things to deal with is legal expenses. A good trailer insurance policy will cover these expenses and the out of pocket ones that your other insurance policies may not provide for.

Be sure to look at any policy that you are interested in, as some of the items that you use in your catering trailer may not be covered. An example of this is that most policies do not cover your generator or gas bottles that you may have on the trailer. It is important to understand the limitations of the catering trailer policy so you will not be surprised when an unfortunate incident may occur.
You can help yourself save some money on this policy by making sure your trailer is in the best shape possible and that it has all the necessary licenses that are required by law. This may include a gas safety certificate and an electric certificate if you have electricity installed in the trailer.
Liability, Employer's and Product Liability Insurance

Do not forget that you will need liability insurance on your catering trailer, as the law requires it. This insurance will help you if your trailer is involved in an accident whether it is your fault or someone else. Liability insurance can protect your investment from things that you cannot foresee. The law also requires you to have employer's insurance to protect your employees.
Even if you just have one person who helps you out from time to time, you have to provide insurance to protect them in case of harm. Many people make the mistake of thinking a contract or casual employee does not need the coverage.
An optional insurance that you should consider purchasing for your catering trailer is the product liability insurance. This can cover you in the event of a bad batch of food being served to the public and people getting sick.It can help you with health code fines and take care of the medical expenses the public may be faced with, because of the food that was bad.
When you look for your catering trailer insurance, you will often find companies that can provide all the policies mentioned above in one package. This will help you to save money on your insurance and still rest comfortably knowing you are protected as best as possible from things you cannot predict.
Catering Van Insurance More Info
More Info On Catering Liability Insurance
Ice Cream Van Insurance More Info
*Read Through Catering Insurance Questions & Answers*

Return To Mobile Catering  (Home) from Catering Trailer Insurance