Mobile Pick and Mix Cart Business
by suzy
(lancashire)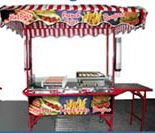 Sweet Cart
Hi,

My sister are me are hoping to set up a mobile pick and mix cart also selling homemade fudge. We are thinking of trading at local fairs, car boots and maybe even hiring out to weddings.

Does anyone has any experience and could give us some advice.

Also any rough set up costs for the cart, we want it to include pick and mix dispensers, display area for fudge and a small fridge to sell drinks.

We have had one quote for a motorised van with fridge and coffee machine, but that came to £20,000!

Have to sell a lot of sweets to get that back!!