Are you ready or thinking about starting a mobile catering business? Burgers, Hot Dogs, Pancakes, Crepes, Fish&Chips etc.  Not sure how to get started or what's needed to start trading successfully. The good news is now the entire step by step process is presented in an easy to follow, detailed start-up paper back book.

Hi! My name is David Hinton, and I'd like to guide you safely through the entire process of starting a mobile catering business while avoiding costly, start-up mistakes. 

Below are my first 2 beloved catering vehicles which were used for trading


I enjoyed great success with these catering vehicles and it's that real life working knowledge, experience and success that I share with you in my start up pack.


I believe that a lot of your starting-up questions, fears and doubts will be put to rest through solid information and real trading experiences. Furthermore, you won't be starting this daunting process on your own, but with a trusted friend by your side; more importantly someone who understands and has been through the same process.
Please remember, I've been exactly where you are today and can recall all the feelings that start to rise like finding the courage, doubts of the unknown, getting finances and know-how to get going. All I had was an idea, a burning passion to provide great tasting quality food and the need to earn a liveable income to support the family.  

I quickly found out that you're going to need a lot more than just an idea and passion to succeed. This is why the full start-up process is covered in my easy to read start up-pack. It contains No hype or exaggerated claims that you will earn huge amounts of money easily because it's not realistic. What you can expect to find is an accurate and honest personal guide of what it takes, how to plan and reach your first day of trading, because....

"Failing to plan is planning to fail.

Also, I don't waste precious time by giving you pointless facts or information you can't use.  Everything in this book is designed to gently push you though the whole start up process. You will find all the advice you need and what it takes to start and run a mobile food business.

More importantly you will also discover if this type of business is for you. Don't just jump in spending £1'000's of pounds before understanding fully the opportunity and what it really involves. I've heard too many stories of people doing just that and losing a lot money.
This easy-to-use book will arm you with the full knowledge you need to succeed! You'll also discover a range of helpful tips and genuine advice answering major mobile catering questions. Rest assured that all this valuable information comes from my personal trading experiences and other trader's experiences giving you a great overview.

What's In The Book & How Can It Help You?
Chapter 1, Part 1: Market Research Competitive Research 


How to start you market research, what questions should you be asking, is there a demand for you service, who's your competition? These and many more questions are vital for anyone starting up in business. The advice and tips in this chapter will provide a direct path to REAL results. Action to do steps are provided.


Chapter 1 Part 2: Finding a Catering Pitch 


This is perhaps one of the most important tasks in starting the business, without it you can't hope to generate any sort of an income. Find the answer to questions like how to find a pitch, how not to get scammed if buying a pitch, private land, finding the landowner details and many more important questions.

Chapter 3: Food Safety, Health and Safety


Find out what you need to know about food and hygiene and health and safety to operate your business within the legal requirements. This will ensure you understand the basics and include info on HACCP, LPG, Electrics, Food law compliance etc.

Chapter 4: Finding a Suitable Catering Vehicle


Your food vehicle is the No 1 asset of your business and the most expensive. Therefore you need to get this right first time. You'll learn important facts on catering vans, trailers, what to look for, what questions to ask, how to find a suitable vehicle. You'll learn 10 valuable tips on what you should know before you buy, including how NOT to end up with a stolen vehicle.


Chapter 5: Must-Have Catering Equipment


What important catering equipment do you really need to get started? Before you buy your equipment, learn these winning tips of the trade. I'll share what you really need to know and how to avoid buying faulty equipment saving you £100's of pounds. Discover a range of vital safety, operational and cleaning tips for smooth trading.

Chapter 6: Menu Choices


Food is at the heart of your services. You need good tasting, visually appealing food. Why keep the menu simple when you can offer so much more? Learn how to cost- and value-base your menu so that you don't operate at a loss. Finding good suppliers, bulk buying, food sizes etc

Chapter 7: Which Business Structure, Insurance, Liabilities


Which legal business structure is right for you? Know you tax and insurance responsibilities to operate within the law. How to register for Tax and NI. Are you thinking of employing people? These important but basics steps will help you understand the requirements and tell you how to meet those requirement.

Chapter 8: Marketing the Business Before Launch Day


Promotion is essential - and promotion before launch is an operational MUST. Learn how to start promoting as early as possible. Here I share key points on  marketing and branding the business. Discover simple marketing ideas to help your first day of business become a success.

Chapter 9: Bonus – Building Site Catering


Learn from my exclusive experience of how I got started in building site catering. I'll share the pros and cons of what I discovered, including the potential to setup WITHOUT the use of a catering vehicle. Potential earnings, whom to contact and how to get started the right way.

Chapter 10: Exclusive Tips and Advice


Variety of helpful tips - popular questions and answers from experts, other beginners from real, authentic experiences! This contains a wealth helpful advice covering many popular Q&A. If you have an unanswered question, it's probably somewhere in this section of the book.

Handy 50+ Point Checklist


This easy to use 50+ point checklist will make sure you cover every angle of the start-up process. You'll never miss an important task with this visual reminder. It will show you where you are in the process as you tick off each task you complete. There's nothing more fulfilling than seeing your dream business come to fruition step by step!

Market Research Template


Use this basic template contains important headings such as, pitch distance, location, landowner details, market research etc. All you have to do is write down what you discover in the blank columns. This template will help keep all your notes in one location and keep you focused on finding only the important facts.

Click Images Below For Detailed Table of Contents

The Book Also Includes a Free Gift Worth £4.99
Free Gift - Working Annual Profit & Loss


Specially created at great expense and time to help you calculate all costs associated with starting your business. Don't leave it too chance; find out what it's going to cost you each month to run the business.

This easy to use solution allows you to enter your information and the sheet will calculate the total. It also includes an example sheet in to show you how it's done, with pop up help boxes! 


This sells at £4.99 individually, see more info here

A Few Recent Testimonials

Shane Mccardle - "I found the start-up pack useful and good value for the price".

Jean-Paul  Rocheboue - "Sensible and well composed advice for the mobile caterer, and a must read for anyone about to or thinking about starting up in this type of catering".

Lisa - Thorneywork - "Fantastic guide, Excellent read a MUST for all who are considering a catering business".

Chirag  Solanki - "Extremely clear and comprehensive. Enough detail leaving no element of the business to guess work. A straight forward action plan covering every inch of the legal, commercial, health and financial issues of the business".

Már Mortensen  Óskarsson - "This book has helped me a lot and saved me a lot of time, good value. I'm very happy with the book ".

Order The Start Mobile Catering  Paperback+


Free Gift (profit and loss worksheet) for only £18.99! Free P&P

(UK ONLY)




Don't Wait! BUY TODAY!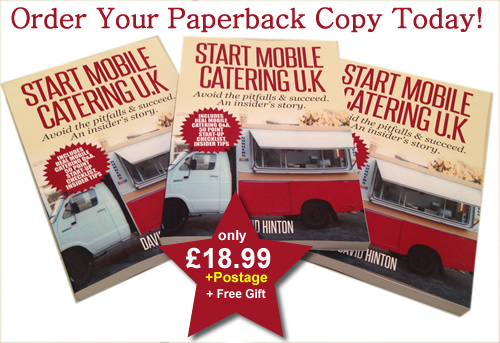 2 Easy Steps to order
1. Click Buy Now Button (pay via pay pal or debit/credit card, no pay pal account needed), enter your post code.
2. Receive link - download profit and loss template and wait for book to be dispatched. (this may be between 1-2 weeks during the Xmas period)

I wish you all the best in starting your mobile catering business!

David Hinton,

P.S. ---- If you came to this page looking for information on how to start a mobile catering business from scratch, book was created especially for you.

P.P.S. ---- Simply read through the step-by-step chapters in this getting started pack and I guarantee you'll have a crystal clear idea of what it takes to Start- Launch and then continue trading in your own  successfully mobile catering business. I've already MADE the costly mistakes so you don't have to, get started in full confidence and without fear.